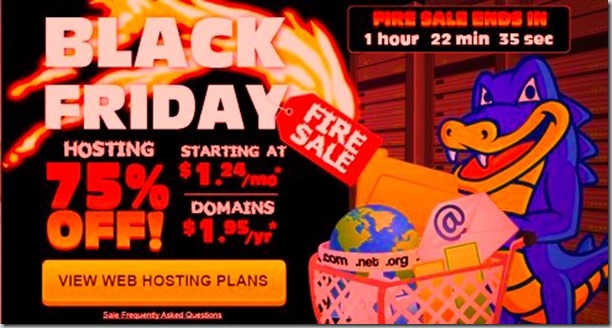 Black Friday is nearly here! .. and Hostgator is  kicking off Black Friday with 75% OFF all new hosting packages and also an AMAZING  $1.95 priced  domains!
The sale begins soon at 12:00AM Central Time, Friday, November 29th. The suprise flash sale will run for 1 hour (ends at 1AM Central Time) and then the site will switch over to 60% off all new hosting and $4.50 domains ( to keep the momentum going  for people who missed the sale hours)
Keep an eye out for flash sales at hostgator
Hostgator will be running limited time, 75% OFF flash sales throughout the day and all weekend.
Flash sale times (US Central Time)
(all flash sales are the same offer – 75% off all new hosting packages and $1.95 domains).
Friday 12AM – 1AM
Friday 9AM – 11AM
Friday 9PM – 11PM
Saturday 12PM – 1PM
Sunday 8PM – 9PM
Monday 12AM – 1AM
Monday 10AM – 12AM
Get the deals over here at our special affiliate link .. and if you are looking for a more extensive list of  black friday and cyber monday deals you might want to check out this blog here