Darren Rowse (main blogger of problogger.net ) has just released his brand new eBook – Blog Wise: How to Do More with Less .
After his first two books ,This brand new eBook is going to give you tips and ideas  to use less time to do more  if you are a blogger
Every blogger knows that time is precious specially when you do blogging and there is never enough of time to maintain your blog or blogs.
In this Brand new eBook you will get advice from not only Darren Rowse the Australian blogger who is now earning  thousand of dollars online from blogging , but also 8 other professional bloggers.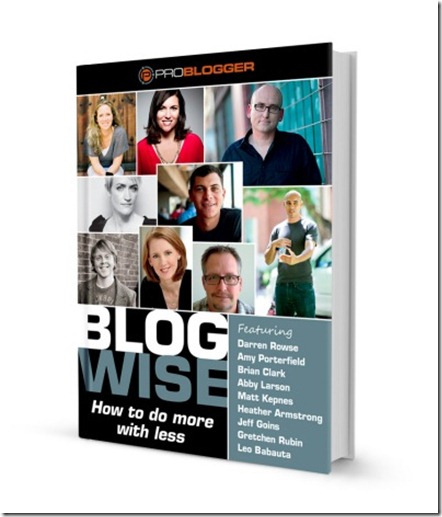 In this eBook nine bloggers have dedicated  their and tips with you and their secrets to becoming prolific, popular and profitable in blogging.You can see the sales page with full details at http://www.problogger.net/blogwise
Darren is not new to the blogging game and is now helping out fellow bloggers  with his honest aussie approach  and showcasing his tips and  tricks to  do more with your blogging.
Darren also has other blog Guide books  you might wanna try like " 31 days to build a better blog" which i think is Real value for money and  the tips will last forever
He also has a online marketing book "The bloggers guide to online marketing" and another book for blogging for business called Probloggers guide : Blogging for business which are full of useful tips for bloggers
Some other reviews links for blogging help Ebooks
Darren Rowse new book for bloggers
Blog Wise: How to Do More with Less (blogging by darren Rowse)