Amazon is one of the biggest retailers on the internet, but its VIDEO Collection though huge  and diverse has not caught much traction  due to amazon not advertising it much . However canny  customers can avail of Movies and TV shows at reasonable price compared  to some other providers like ITUNES.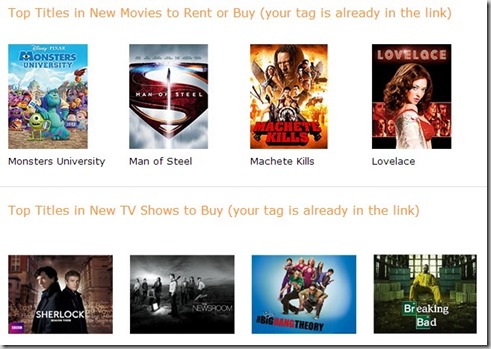 How to make money with amazon instant video and TV shows ?
The Amazon Associates advertising program is one of the most popular blog monetization methods or ways to earn money from your websites . Bloggers or webmasters can make money from a variety of links and banners including sale of online movies and television  shows which can be included on your blog as a monetization opportunity thanks to Amazon Associates Video On Demand.
Bloggers make money by offering the ability to watch these programs instantly via their blogs.
Amazon Instant Video is the place where your users can rent or buy more than 50,000 top new movie releases, must-see TV shows and all-time classics (many in High Definition) all available to download or stream on the widest variety of popular devices including Kindle Fire HD, iPad, iPhone, PS4, PS3, Xbox One, Xbox 360, Wii, Wii U. ( Plus, you can subscribe to current TV seasons, with new episodes available the day after they air.) Amazon Instant Video is also available on hundreds of TVs, set-top boxes and Blu-ray players from LG, Sony and Samsung and, of course, via PC, laptop or Mac.
Earn advertising fees when your users rent or buy Amazon Instant Video. Click Here to find out more.
Amazon Associates Video On Demand units pay a 10% referral fee on all videos consumers agree to rent or purchase in order to watch instantly and in their entirety.
For most movies, you'll see two prices: rent or buy (own).
Rentals start at $2.99. If you rent, you'll have 30 days from when you rent to start watching, and once you start watching, most movies have a 24-hour window to finish watching. Once the rental is over, the movie will automatically disappear from Your Video Library.
Buying a movie or TV show means you can watch it as many times as you want, now or later
Streaming services Netflix, Hulu Plus and Amazon are in a three-way tug of war to sign up new subscribers, as consumers increasingly stream more and more video content on their phones, tablets and connected TVs using on-demand services.
Promoting AMAZON INSTANT VIDEO is  a great monetization opportunity for niche blogs such as entertainment, sports, or celebrity blogs.
The good: Amazon Instant Video has lower prices on some movies and a catalog that's mostly on par with iTunes.

The bad : Amazon Instant Video is only instant if you're a Prime subscriber or once you've already purchased content from Amazon's Web site, but the lower cost for some videos might make it worth your while.
Click here to check out the latest movies an tv shows available on AMAZON INSTANT VIDEO