Facebook's ads gets rejected for many reasons, but one of the popular ones are where  you use images  and text and there is too much text  int he image for facebooks liking so they reject it.
How to fix text in facebook image ads
The way to fix this is to have only 20% of the image as text and they are tools provide below to check them.
These tools will tell you if your image has more than 20 percent text ratio in your image ad, and if there is you will need to edit your image/reduce font size etc  and  recheck it. I do my images in  canva.com and its easy  to get the  font size etc. adjusted  to make it okay for  the ads and to pas Facebook text  limitations
About grid tool – from facebook

Grid Tool

Ads that have more than 20% of text in their image won't be approved to run on Facebook or Instagram. Too much text can look like spam and make people think that your ad is low quality. Make sure to use the headline and body of your ad to tell people more about why you're advertising and what you want them to do. Learn more about Facebook's Advertising Guidelines.

Upload an image below to see how much text you're using. After you upload an image, we recommend marking five boxes on the grid in order to determine whether your creative is likely to be acceptable to show on Facebook or Instagram.
Tool 1 : The  official Facebook test tool is here – Grid tool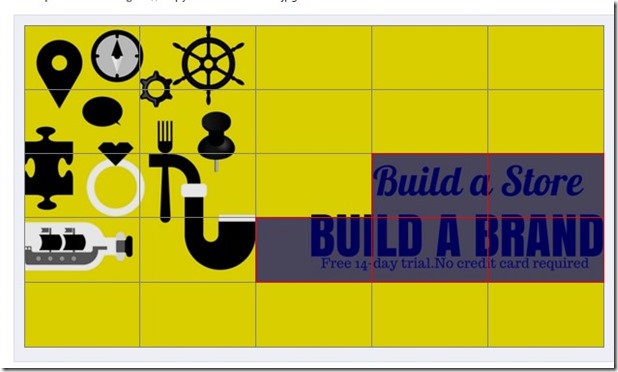 Click on all boxes that contain text to see whether your image is covered by less than 20% text. Learn more about how to do this in the Help Center.Based on the boxes you've selected, your image is covered by 20% text. If marked properly, this image may be used for an ad on Facebook or Instagram.
(screenshot of Facebook grid tool checker for my image), i had to adjust font and move text a bit below before it passed the  test of 20% when it  fit in 5 boxes
Six boxes would go above 20%
Tool 2 – >   http://www.social-contests.com/check-image/ Tool ( screen shot below)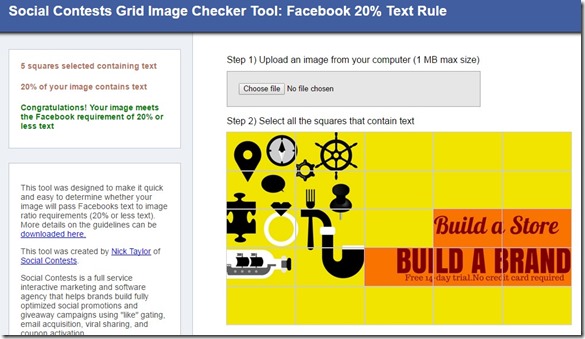 I adjusted image  to get font smaller in canva, so that its only 20% now and checked it in social contests in the screen above just to make sure.
This tool was created by Nick Taylor ofSocial Contests.