GO daddy are pretty good , once you buy  a domain from godaddy.com they are pretty prompt in reminding you  before a domain expires , including  a couple of times just  before its going to expire , so that you don't lose a domain by mistake. ( They have also started to  run Australian special deals now  like the $1.99 .com domain that they are doing for Australian customers.)
They have continuous go daddy specials and discount offers and coupon codes ,offering special deals for their products.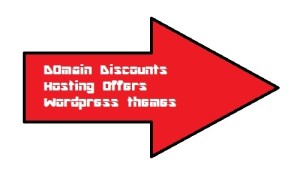 Current offer  below Domain for $1.99 only
You can click the banner above to get this deal "A$1.99 .Com at GoDaddy.com!" or then just  get this deal  below –  32% off for New products from godaddy 
Off late  they have restricted many deals  to Australian customers, while offering their American customers more discounts.
If you are already a go daddy customer and want to renew a domain here is  a good coupon code for 30 % discount for renewals a nd its availabel for australian customers as well ( NO RESTRICTIONS)
Domain Godaddy  renewal discount coupon code Deal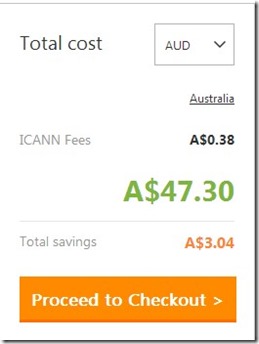 Snapshot before  coupon was applied ( only regular 10% off)
Normally  you would get just  the regular 10% off if you dont apply this coupon , but once you apply this coupon you get 30 % off your order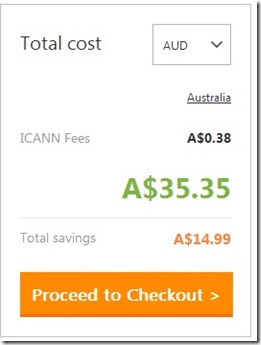 Discount after  30 % off renewal coupon was applied , with a further $11.95 saving
Here is the coupon code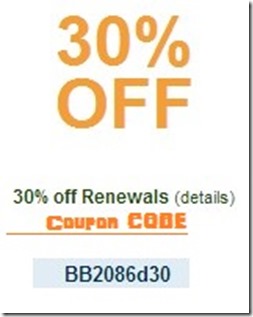 coupon code : BB2086d30
i was renewing two .com domains ($13.47 x2 ) =$26.94 with privacy  options ( $9.99 x2) =$19.98.
Another coupon code for you ( GET A $1.99 domain below )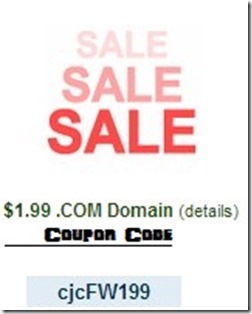 Coupon code : cjcFW199
Coupon is no more valid, try the link and banner for  current deal $1.99 domain and 32% off new products
Article by digitalgrog.com.au