In todays world, video consumption is at the fastest growing rate  and  soon people would rather watch  short videos rather than be tied up  to watch a full movie. Video are being made not only for information and education purposes but also for  entertainment and marketing your business. It makes sense  to then have a tool whre you can just login online and make a video on the go.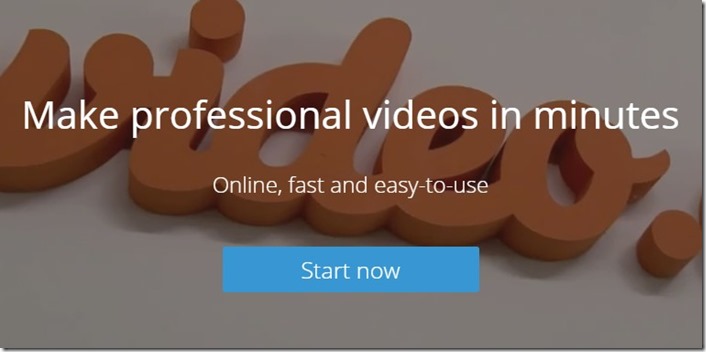 74% of all internet traffic in 2017 will be video
With video projected to account for nearly three quarters of all internet traffic in just a few short years, it's crucial for marketers to flesh out their video content strategies early on
Wideo is an animated video creation platform that allows you to create, edit, and share professional videos online
It's easy to use and has everything you need to create an incredible marketing, informational, or educational video.  You can make product demos, classes, corporate presentations, advertisements, infographics, tutorials and more. That's why over 900,000 people have chosen to use Wideo, opting for one of our 6 different pricing plans most suitable to them.
How to make Professional looking videos  online ?
Online Marketing
Lower your costs and improve the performance of your campaign by creating videos quickly and easily.
93% of marketers use video for online marketing, sales or communications
Not only is video content preferred by viewers, but it's also already popular among marketers with an overwhelming majority already using video content for a number of functions.
Starting Your First Video | Wideo Learn
Check Prices – >  start from as little as $9 up to $500.
Read More About Animated Videos
Research also shows that brands — including Coca-Cola and Toyota — are not just creating effective YouTube channels, they're also embedding YouTube videos on their own websites. In fact, 61 of the Top 100 brands now embed YouTube videos on their websites.
Online video performance isn't just about views; it's about audience and engagement. The Online Video Grader  looks at four separate, yet interrelated areas that determine how well an organization is leveraging online video and YouTube:
Website score
Search engine score
YouTube score
Social media score
The grader analyzes numerous attributes under each area, as well and is a good tool to use for auditing your video reach and effectiveness.
Tips and tricks to use wideo  are available on their youtube channel
With Wideo you can achieve high-quality animation within minutes and without headaches–whether you're an educator, animator, in-house marketer at a small business, member of a creative team at an agency, or just have a story to tell through visual content. No video editing experience, no problem.
Linked in : https://www.linkedin.com/company/wideo
How are people using Wideo Online  to make videos ?
Explainers videos

Promotion video
Other :  Online video making websites
What you can do at animoto?
Slideshow Videos
Instantly transform your photos and video clips into stylized videos.

Marketing Videos

Build unique, branded videos in minutes.
Moovly is a cloud-based online digital media content creation platform. What does this mean? It means that you only need a browser and internet access to make fantastic mixed media content for a wide spectrum of purposes
Create professional explainer videos, video presentations or animated whiteboard videos to present or promote your product, service or company
– Unlimited downloads of 10 min videos for free