Arrrrggghhhhh!!!  Avast all ye skallywags and sea-wenches!
Good News matey's !  HostGator will be having a massive sale for "Talk Like a Pirate Day". We will be offering all new Hosting orders at 44.44% off and new Domains at $5. With the savings you can get a shared hosting package for as low as $2.76/month! The sale starts September 19th at 12:00 AM CDT and ends September 19th at 11:59 PM CDT
To take advantage of this offer (today only), simply use the followin' – > Link
Hostgator Hosting Plans
Wednesday, September 19th be "International Talk Like a Pirate Day!"
Hostgator is  a US based company  founded in 2002 by Brent Oxley and offers a wide range of hosting plans and packages that cater well to different webmaster requirements and businesses. They operate in shared, VPS and dedicated server hosting space, so a customer can very easily start with small and upgrade to a bigger plan as their hosting requirements increase.
All new .com/.net/.org/.biz/.info domains only $5 today!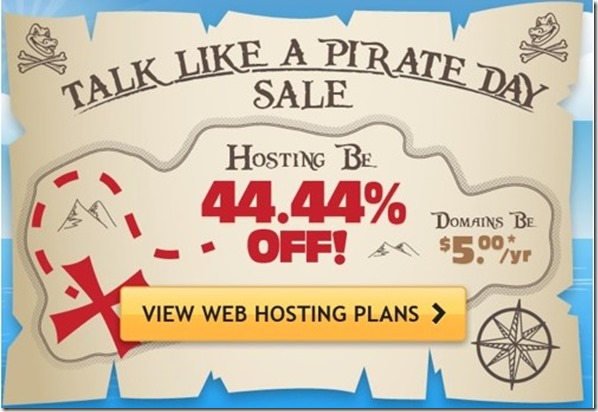 The popular Gator host has 3 shared web hosting plans
Hatchling Plan – This plan allows you to host only one website, though comes with unlimited bandwidth and disk-space provision.
Baby Plan – With this plan, one can host unlimited domains on one hosting account, other features of unlimited bandwidth and disk space remaining.
Business Plan – This plan offers a lot more extra features than what you get with Baby plan including a free dedicated IP address, private SSL and a toll free business number.
As of 2012, "HostGator" hosts over 8 million domains.
Hostgator 45-Day Full Money Back Guarantee
Hostgator offers a 45 day full money back guarantee with no questions asked. They generally take only 1 working day to process refunds.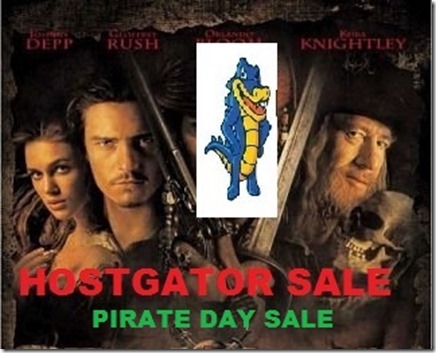 To take advantage of this offer (today only), simply use the following' – > Link
Some fun pirate day talk $ quotes
What kind of socks does a pirate wear? ………. AARRRRGGHyle!
What's a pirate's second favorite mode of transportation? ……….A cAARRRRGGH!
What does a gourmet pirate add to his dinner? ……….A gAARRRRGGHnish!
What Star Wars character is really a pirate?……….AARRRRGGH-2 D-2!
What's a pirate's favorite country? ……….AARRRRGGHentina!
Why did the pirate go on vacation? ……….He needed some AARRRRGGH and AARRRRGGH!
where do pirates put their trash?………. in the GARRRRRRRRRRRBAGE can!
what is a pirates favorite doll?………….. BARRRRRRRRRRBIE!
where do pirates keep their cookies?……. in a jarrrr!!!!
how did the pirate become a lawyer? …….he passed the barrrrr!!!!
The pirate joke'
A pirate walks into a bar and the bartender says, "Hey, I haven't seen you in a while. What happened, you look terrible!"
"What do you mean?" the pirate replies, "I'm fine."
The bartender says, "But what about that wooden leg? You didn't have that before."
"Well," says the pirate, "We were in a battle at sea and a cannon ball hit my leg but the surgeon fixed me up, and I'm fine, really."
"Yeah," says the bartender, "But what about that hook? Last time I saw you, you had both hands."
"Well," says the pirate, "We were in another battle and we boarded the enemy ship. I was in a sword fight and my hand was cut off but the surgeon fixed me up with this hook, and I feel great, really."
"Oh," says the bartender, "What about that eye patch? Last time you were in here you had both eyes."
"Well," says the pirate, "One day when we were at sea, some birds were flying over the ship. I looked up, and one of them shat in my eye."
"So?" replied the bartender, "what happened? You couldn't have lost an eye just from some bird shit!"
"Well," says the pirate, "I really wasn't used to the hook yet."
To take advantage of this offer (today only), simply use the followin' – > Link