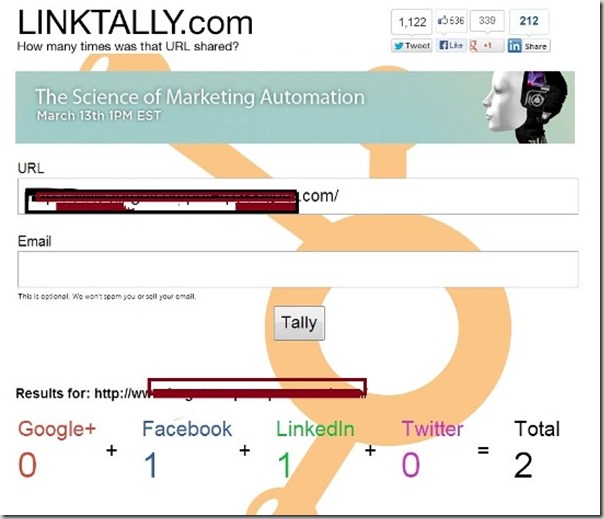 Australian Internet Marketing
Do you want more traffic to your blog? Are you struggling to catch the attention of more readers?
Well "social media" Is the new shiny thing in the internet universe where everybody hangs out , so if you "want traffic"  you need to be where everybody hangs out and shares their stuff you need to be on facebook , twitter  and youtube  linked in etc
Free tools to measure social media shares
I got a email from squirrely today  saying they did a site audit for one of my sites  and they gave one of my websites a pretty good score , but they said i was not getting enough traffic.
I checked out the social stats that they gave me (PIC BELOW)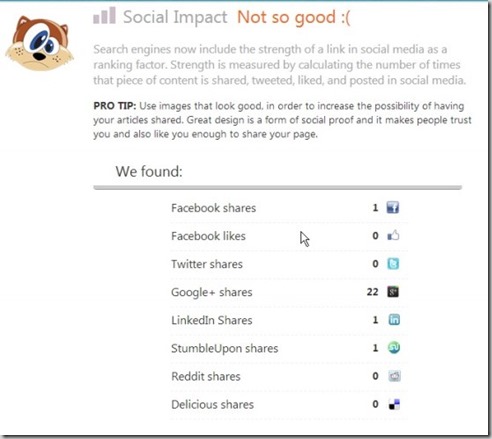 As this was the first time that  somebody gave me a count of my social shares , i decided to check it with other tools . I found link tally  which is by the hubspot site , they are pretty good with  metrics.
This is what they told me (pic at start ), something different  from what squirrely told me .
While they both gave me Facebook  and linked in shares =1 each , squirrely gave me 22 google + shares as well
I decided now that i really need to look into this further ;0 , so i  got another website and did some more checking . This website agreed with  squirrely , so i can just assume ( benefit of the doubt)  that hub spot ( or link tally ) just takes into account Google shares  and not Google +1 for which i got  22 +1's
If you are like me  and cant get enough of checking , here is another "website to check your social shares"
WEBSITES  TO CHECK  YOUR SOCIAL STATS OR SIGNALS
1. Like Explorer
Like explorer give you  shares likes count etc for  facebook , twitter , linked in , stumble upon , google + and pinterest
2. Check social stats at Harkable
http://daily-pulse.harkable.com/
3. BUTTON SPACE ( just discovered this one)

This one shows G+1 , facebook likes , tweets , linked.in shares, Stumble  submits,  and pins in nice simple format right ton top of the page ( just copy  paste and replace your url in the url below or go directly to site and do s search)
http://buttonspace.com/for/http://nakedseo.blogspot.com.au/2013/11/cant-login-to-blackhatworld-website.html
4.  Monitoring socials
Monitoring checks all the ones like explorer does above  and then some more . Check out this link they have at the bottom of their page ( leads to many other useful tools)
How to check my twitter stats  and retweets ?
For twitter social media it is also important to  check   who is retweeting your twitter posts  to see  how your tweets are getting popular  and also measure which tweets are getting more popular than the others and therefore gaining more followers as well.
At best some of the tools out there are best a  bit sketchy, but you can give  these twitter tools below  a try for yourself
RETWEETRANK
– Gives you an over view of your following  and followers and also give you a retweet ranking  and retweet percentile. It also gives the last 10 retweets on your profile  which i actually managed to check and was right
http://twittercounter.com/undermarrest
– This is another free good tool to give you an overviews of your twitter rank and profile  and the layout is much cleaner
BACKTWEETS CHECKER
http://backtweets.com/search/?q=undermarrest
Back tweets is another tool that gave me a bit of different results  from the other two , boring interface but unique data from the others
Everyone is using Twitter, Facebook, Google+ and LinkedIn to promote their content. It's tempting to focus only on these four networks because they have popularity and community numbers on their side, but there are other social networks from which you can gain traffic like Pinterest, Vine , Instagram, tumblr etc , so definitely be adventurous with your social media plan and you cant go wrong . Contact us and we will get your business  the push on social media with a appropriate plan   to get the ball rolling.