How do you find out what keywords your website ranks for or which keywords is bringing in the traffic for you. This software just released should do this for you.
One of the most popular and effective way of promoting your website is through content marketing. But even though you may have the most well-written piece of content, if your content is not optimized according to the search engines, your article is just not going to be searchable by your audience at all.
RANK REVEAL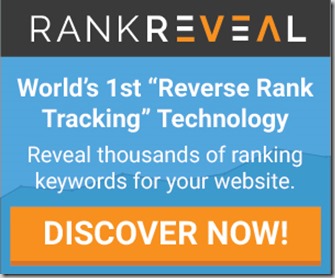 Well here is a tip for you: The best way to prioritize your copywriting is to identify which are the relevant keywords that can help you to drive in more traffic to your site.
Having said that, this is exactly the tool that you need to check out now.
So, what can you really expect from this incredible tool…
Auto-discovery: No more painful journeys of identifying lists of keywords that you should be tracking periodically
Up-to-date information: 24/7 revealing of keywords a website is ranked for…(data refreshes daily)
Multiple location tracking: You can now gather all of the ranking keywords data from all around the globe
It is called RankReveal. Basically, it helps you discover all the ranking keywords that you are currently ranking on so that you do not have to crack your head figuring out what keywords to rank for. Now you can really focus on your copywriting and fit in those relevant keywords that you have discovered into your article as naturally as possible.
Check out the demo video now. [Here]
RankReveal is the greatest invention ever built for SEO! With its "Reverse Rank Tracking Technology", you will be able to DISCOVER hundreds to thousands of keywords with just a few clicks…and it's unlike any of the conventional rank tracking tools out there!
Lastly, you can now wake up everyday knowing that there is a whole new set of ranking keywords just waiting for you to be discovered.