How to Quickly access your Commission Junction
CJ Approved links once logged in

If you are still not a member  you can register here
Cj is one of the  biggest online affiliate commission portals  where you can get links to products from sellers  and promote it on your website or blog and make money or commission.
How to access ?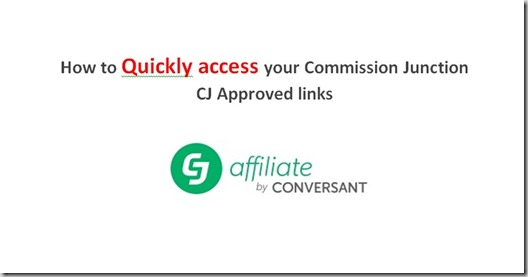 · Login to the member area of Commission Junction (www.cj.com )
· Click on "Get Links"
· Click on "By Relationship" and Your approved Advertisers will be waiting for you in the Approved section
· Click "View Links" next to Approved Advertisers eg Macbook sales to get a list of the links that are available.
· Localized creatives available in "Flash link" section, language of the link marked by 2-letter code of appropriate country (landing page language depends on browser language)
· Click "Get HTML" to access the HTML code you will need to insert (copy and paste) into your web design program or email
My cj video and snapshot of earnings  below 
 101 Vidoes on CJ  for starters  and newbies 
http://www.cj.com/video-tutorials-publishers
https://youtube.com/watch?v=Ad-Nhd-52fo%3Fwmode%3Dopaque%26autohide%3D2%26border%3D0%26cc_load_policy%3D0%26color%3Dwhite%26color1%3D%26color2%3D%26controls%3D0%26fs%3D1%26hd%3D0%26iv_load_policy%3D1%26modestbranding%3D1%26rel%3D0%26theme%3Ddark