Now you can get your own Google Authorship-enabled plugin that will look beautiful on your wordpress site below, For FREE.
This plugin enables to get your author profile right  at the start of your post  to get more "google authorship" coverage or at the bottom of post ,wit the plugin also enabling  other social media  sharing via inbuilt buttons for  Google + , facebook ,twitter and pinterest and others in the author  box as well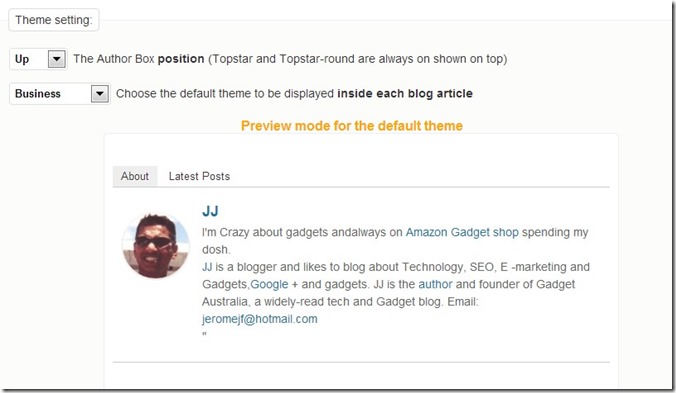 Get Your Own Author Box with Google authorship + social sharing  For Free
The Starbox Author box comes with professionally built themes and landscaping to amke your auhor box look good to humans not just search engines .
Screen shot 1.
AUTHOR BOX  ( IMAGES VIA WORDPRESS PLUGINS)
Starbox features
HTML 5
Google Microformats (vCard), to display Rich Snippets in google search results
Easy to customize for each Author
You'll get Google Authorship on your hands 🙂 For all your authors.
Have it work only on blog posts, only on pages, or both!
Links to social media profiles of your authors: Facebook, Twitter, Klout, Google+, LinkedIN, Instagram, Flickr, Pinterest, Tumblr, Youtube, Vimeo)
Each of your Authors can have a different set of social media profiles added
Links to all the articles
Section that displays the latest posts of a certain author
Themes to choose from
Can set the Name of the Author
Can set Job Title
Can set Company (with link to company's site)
Each Author can make the Author Box look like it's his own
You can choose not to display it for certain authors
Removes any other author box from the page, so that there aren't duplicates
Enables you to upload your own image (so that you won't need a Gravatar)
Paragraphs in the Author Bio
Displays the Author Box in the special pages built for each author.
NEW! Add Starbox in the post content or widgets with the shortcode [starbox] or [starbox id=USER_ID]
SCREEN SHOT 2.
LATEST POSTS LINKS IN AUTHOR BOX
How to install starbox author plugin on wordpress
Log In as an Admin on your WordPress blog.
In the menu displayed on the left, there is a "Plugins" tab. Click it.
Now click "Add New".
There, you have the buttons: "Search | Upload | Featured | Popular | Newest". Click "Upload".
Upload the starbox.zip file.
After the upload is finished, click Activate Plugin.
SCREEN SHOT 3
SETTINGS IN AUTHOR BOX
Get Your Own Author Box For Free.. this plugin has been made my squirrly uk